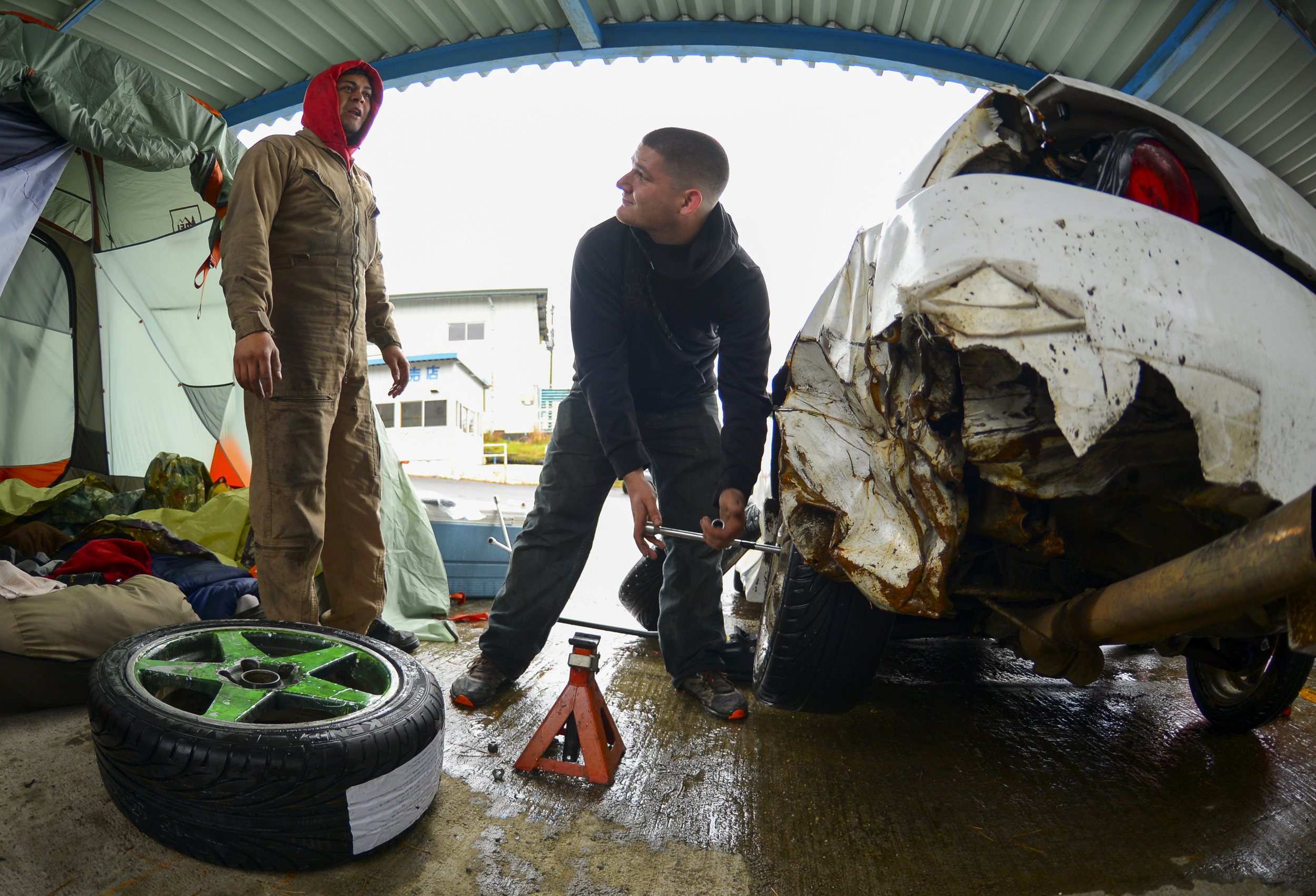 Drifting can be described as the controlled chaos of sliding a vehicle around a turn. It's a sport of beat-up cars and burnt rubber, associated with hitting dirt banks and losing bumpers. Even the best drifters smack a wall now and then.
Yokota Airmen find different ways to channel their creativity and energy during their off-duty hours. Some go camping, some play ultimate Frisbee on Saturdays and others rip around tracks in shuttering, beaten cars at high speeds.
"Drifting is the kind of thing every kid wants to do when he gets his license at 15," said Joseph Galloway, a 730th Air Mobility Squadron jet propulsion technician most often found with either a wrench or a steering wheel in hand. "I've never met anyone who went out there, experienced drifting, and didn't like it. It's wide-open throttle. It's burning rubber and burning gasoline and almost crashing. And crashing for real. Who doesn't wanna do a burnout sideways in a beat up car sliding against walls?"
Of course, Airmen are required to wear proper safety gear and fill out high-risk activity forms before participating in drift events. This ensures Airmen have experience and knowledge of an activity before participating, reducing the risk of harm.
To find out what drifting is all about, I spent a weekend with a group of five Yokota Airmen and two separated Airmen at Ebisu Circuit: a one-of-a-kind, combination zoo and drift track in the mountains of Japan. That weekend Ebisu held a fall drift festival, or Fall Matsuri.
The group drove four hours in a packed van to make it to their drift haven.
The entryway to Ebisu is hard to miss, marked with a large, zebra-striped display board mounted with a centered lion head surrounded by perching flamingoes.
"Ebisu is like Disneyland for drifting," said Angelo Manalastes, a dark haired, energetic young man who formerly worked as an Air Force vehicle mechanic. "Japan has some of the best tracks. Drifting is huge here, like Nascar to some Americans."
The night before the gates opened for Fall Matsuri, cars already crowded the entrance. The entire weekend was a rush of activity and energy. Inside the gates, children and bears watched smashed-up Skylines sputter past them as if there is nothing odd about a zoo-drift circuit. Our group had been waiting for this weekend for months. The unwelcoming fall weather stayed mostly rainy and cold and their breath froze as they set up a tent on the pavement by the track. Sometimes their fingers shivered as they turned wrenches and cut wires, yet they were excited. Their spirits never seemed to fall for more than a moment. They laughed, joked and jibed each other constantly. The Airmen were enjoying their time off, doing the thing that they love.
"When you're out on the track you don't even think about anything," Galloway said. "That's it, you're just out there. If you spin out it might be frustrating, but then you're having so much fun you can't really be upset."
Spinouts are common, and the track was designed with them in mind. Most turns have plenty of margin to get off the road.
"Safety is kind of a big deal," Galloway said. "No one get hurt because we have roll cages reinforcing the frame of the cars, we've got helmets, everyone's buckled up and you never have anything in the car that can fly around if you do end up crashing."
I'd never seen or heard anything like the drifting spectacle. As some of the Airmen tried to get the cars running, the less mechanically inclined of us stood by the track and watched drivers catch air and then spray us with sheets of water as they ripped around the bend, leaving as quickly as they came, the scream of their engine trailing behind the body. Some of the cars were beaten and some were shiny. Sometimes they made a perfect drift, sometimes they spun out and sometimes they hit the wall.
"When you're on the racetrack you can drive fast and slide corners and there are no consequences," Galloway said. "You're spending the money to burn the rubber and burn the gas and break the parts and rent the camping gear, but at the end of the day if you wreck into somebody else, you share a drink and talk about it afterwards. Then you fix your car and get out there again."
The Airmen and friends spent the two days fixing and driving their two drift cars, named Team Crash and Tire Eater. They called them missiles.
"A drifting missile is a car that you don't care about," Manalastes explained. "You don't mind slamming it into a wall or another car. The one we drive's got a little damage but I still love her. She's pretty."
Manalastes and Galloway drive the car named Tire Eater, inherited from previous drifters.
"She's faithful," Galloway said. "She runs well no matter what we do. There's not a corner on that car that's not messed up. The sides are probably pushed in six inches on each side and the back. It has no front or rear bumper or side skirts. She was probably one of the most beat up cars there."
They fixed Tire Eater enough to drive and ripped until they had to fix it again. All day pieces went flying, zip ties put them back on and ratchet straps held things together. Tires came off, tires went on, wires were cut and parts were replaced until inevitably someone said "Let's go eat!"
Meals were a reprieve from the constant rain and soggy cold. The group stayed in good spirits and continued racing along.
"It's nonstop chaos and that's the best part," Galloway said. "If you want to go make new friends or ride along with someone who's way better than you, you can do that. There's a lot of Aussies and a lot of Japanese that know some English. They don't even need to know English, you can just go up and make hand motions. It's almost like a big game of charades trying to communicate sometimes. They understand a little bit and you understand a little bit and everything works out."
Drivers come from around the world to drift at Ebisu, and it's a chance to meet a lot of people. The Ebisu trip was also a chance for all the Airmen to get a little more connected to their host country. Between the food, people, traditional-style rest stops, hot springs and even karaoke, there was a lot of culture to enjoy.
The friendships don't stop at the circuit. Three weeks after the Fall Matsuri, Manalastes and Galloway invited about 30 Japanese friends on base for a barbeque. These were friends they had met at car meets, auto shops and Ebisu.
"It was crazy how many people showed up," Galloway said. "Some of the guys we met at Ebisu drove almost two hours to meet up."
The crowd enjoyed an entire day together, cooking, eating and talking around the fire. New friends added each other on social media and made plans to meet again in the future.
Whatever job Airmen are working, taking some time to spend energy and creativity away from work is an important part of balancing their lives. People who enjoy cars have a bond that reaches across cultures. Whatever the interest, the relationships and the experiences are there, waiting to be made. It may just take a few words to kick it off, like "Hey man, what are you driving?"